Amenities
The naturally modern apartments at Elan Redmond Town Center offer a host of amenities and details designed to help you make the most of life in walk-friendly and bike-friendly downtown Redmond. We're located directly across from Redmond Town Center on Cleveland Street.
In the community
Gather in The Hub community room
Play away at Game Central with a dartboard, Wii, Xbox, and Playstation
Relax in The Courtyard, an outdoor lounge spot with fire pit
For those days when the weather calls for a break from working out on the nearby Sammamish River Trail, work out at The Core fitness center
The Network business center and The Conference Center offer spaces to get things done and host presentations and meetings
Complimentary WiFi in shared community spaces
Bike room and repair station
Tipsy Cow, a Burger Bar—right downstairs for super convenient bites and sips
Elan Redmond Town Center is pet friendly!
In your home
Built-in office or hobby space with an alcove or den (in + homes)
Unique color schemes—two options to speak to your style
High ceilings (nine to ten feet) for a spacious feel
Quartz countertops in the kitchen and bath that are attractive and easy to clean
Stainless steel GE appliances*
Refrigerator with ice maker*
GE washer and dryer in each home to make laundry a breeze
*in most homes
LEED
Elan Redmond: modern green living at the hub of it all! This project is using the LEED for Homes Mid-Rise 2010 Rating System. Leadership in Energy and Environmental Design (LEED) for Homes is a voluntary rating system that promotes the design and construction of high-performance green homes, including affordable housing, mass-production homes, custom designs, stand-alone single-family homes, duplexes and townhouses, suburban and urban apartments and condominiums and lofts in historic buildings. http://www.usgbc.org/leed​
This project is pursuing LEED Gold Certification and enables residents to enjoy an outstanding location, excellent amenities, transportation connectivity, and built-in green features and benefits.
Location
As a centrally-located hub, Elan Redmond provides you with:
Quick, easy access to recreation, a wide variety of shops, restaurants and services, and major employers at both Old Town Redmond and Redmond Town Center
Easy access (within 1/2 mile) to hundreds of rides per day on local and regional bus lines
Close proximity to Saturday farmer's market, the Sammamish River bike and pedestrian trail, and Marymoor Park, its community garden, and a 40-acre dog park
Whole Building Features
ECOLOGICAL RESPONSIBILITY
Drought-tolerant landscaping reduces the use of precious potable water while maintaining very pleasant life-giving plants
Subsurface parking reduces the heat island effects normally associated with parking
A white membrane roof also reduces the heat island effect normally induced by dark roofs and surfaces in urban environments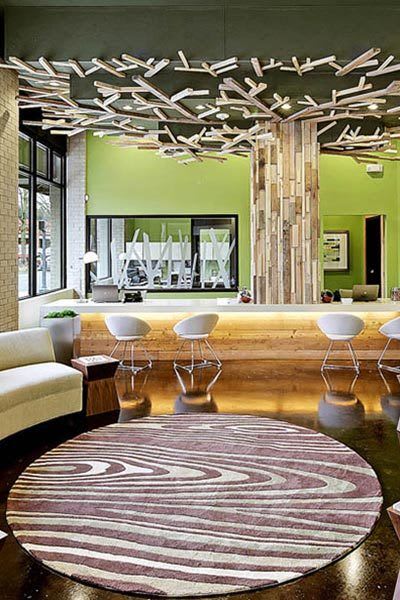 Transportation Choices
In addition to excellent public transit opportunities, Elan Redmond also provides the following:
Electric car charging - electric cars reduce our dependence on fossil fuels and do not have local sources of emissions.
Ample bike storage - numerous bike racks are provided in the secure garage to allow residents ease of access and to encourage alternative transportation.
Excellent Waste Management
An integrated trash recycling and compost program make it easy to send less waste to the landfill and keep more nutrients in the local system.
Healthy Indoor Air Quality
The entire site is a no-smoking community, protecting the health of occupants and visitors.
Low Volatile Organic Compound (VOC) materials, paints, and sealants were used in order to protect workers' health and the health of occupants and visitors.
Energy Efficiency
Corridors, common areas, and the parking garage utilize energy efficient fixtures and lamps without compromising visual quality or safety, reducing building utility costs and energy use - protecting rent costs and the planet.
Unit Features
Energy & Water Efficiency Features & Benefits
Energy Efficient Fixtures in every apartment to save money.
Unit Insulation: Each apartment has been third-party verified to meet the highest standard of quality for insulation; maximizing comfort, keeping utility bills low and minimizing exterior noise.
Dishwashers, clothes washers, and refrigerators are Energy Star labeled & use 10% less electricity while also saving water with each use.
Every laundry room at Elan contains an automatic whole house ventilation fan with a highly-efficient and nearly-silent fan.
Water Sense plumbing fixtures ensure excellent performance while saving water and energy.
Healthy Choices
Primers, paints, and caulks were selected with very low volatile organic compound (VOC) levels to protect indoor air quality.
Flooring: Elan has prioritized hard surface flooring in most areas. These materials are less dusty, easier to clean and maintain, mitigate staining, and are healthier than wall-to-wall carpet.
Indoor Air Quality Most windows in your unit contain window-integrated fresh air vents, ensuring distribution of fresh air into every room of your apartment.
All carpeting meets the Carpet and Rug Institute's Green Label Plus program and all carpet pads meet CRIGreen Label requirements, providing a seal of approval for improved air quality.
All hard surface flooring meets SCS Floor Score certification, another seal of approval for improved air quality associated with flooring products.
The wall insulation meets air quality standards under the Green Guard for Children and Schools program - protecting the health of installers and residents.
Materials Choices
Local lumber and wood products were used as much as possible on this project—keeping local dollars local and supporting a strong Northwest economy.
The wall insulation used on this project includes more than 20% post-consumer recycled content.